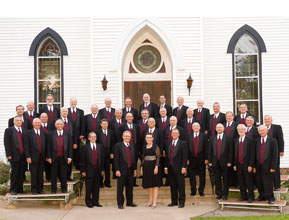 We are the premier male chorus currently providing quality entertainment in the Niagara region.
Our 60+ members continue the traditions established many years ago when this chorus was formed. See our history section.
Founded on the principles of good singing, good fellowship and public service, our mission today is the same as when we started those many years ago "To promote, develop and maintain a male voice chorus in the Niagara Peninsula, providing quality musical entertainment for audiences and self-satisfaction for participants".
The Niagara Men's Chorus performs a wide range of music in four part harmony, including contemporary, inspirational, classics and Broadway numbers. The group sings regularly at many venues for fund raisers and other social gatherings. Performance fees are reasonable and, depending on the occasion, may be waived.
One of our highlights each year is our annual show in November which is a culmination of all works throughout the year, featuring a variety of musical compositions, with special guests, providing entertainment for all ages.
As members of the Associated Male Choruses of Ontario since 1990, we are pleased to represent the Niagara region at all of the functions of this Ontario-wide organization and participate in the AMCO Scholarship programs as well as our own local NMC Scholarship Awards initiative.